Novel Uses for Hive Mechanic: Inspiring Designers at Games for Change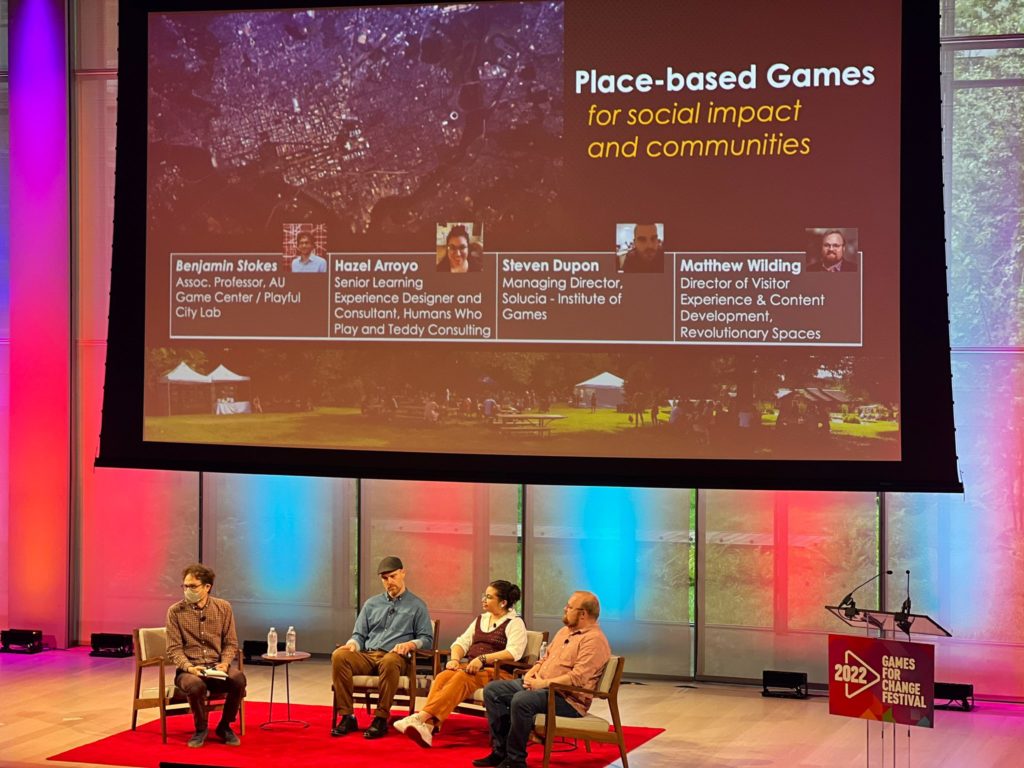 We created a provocative set of ideas for games back in July that we keep meaning to share. We had traveled up to NYC to present at the annual Games for Change Festival (one of the most prominent festivals on social impact with games).
Our idea had three parts:
Playing with "smart cities" data flows
Unusual mechanics with multimedia messaging
Unexpected outcomes for social impact
The power comes in the wild creativity of picking one from each column:
Again, the idea was to mix-and-match sets of actions, API triggers, and outcomes to then come up with game concepts that could incorporate the set.
One approach is to have a post-it note for each cell in the table. This can help to embody the brainstorm, and show ideas that have been taken, or to visually allow groups to put three ideas together without writing them out. Ideally the post-its on a white board or butcher paper could be drawn around in pen to craft a core loop for a game, or branches in a story.
Our hidden goal was to start conversations – and expand the imagination of teams. Many of the ideas would not be easily feasible, and that's fine (even good) when meeting new people or brainstorming. Much like a Game Jam, festival design sessions are often as much about meeting people as anything else.
We love to make design tools like this at the Playful City Lab – more coming soon as part of the Engaging Beyond Our Walls project.
---
P.S. The specific sessions were:
Main Panel
Place-Based Games for Social Impact and Communities
Moderator: Ben Stokes
Panelists: Hazel Arroyo, Steven Dupon, and Matthew Wilding
Description: What impact comes from play tied to specific neighborhoods and places? What can you build — and with what budget? This panel brings together successful case studies on place-based play, including the Streets of My Town platform to co-create stories of the community that you live in; Revolutionary Spaces, where 40 players engage in a specific historical room tied to the Boston Tea Party; and how libraries in 20+ cities are Engaging Beyond Our Walls with low-tech like "text with a sculpture."
Networking Session
Place-Based Games Networking and Showcase
Facilitators: Ben Stokes, Hazel Arroyo, Steven Dupon, and Matthew Wilding
Description: Come see how games connect us more deeply to place, local history, and our neighbors – including outside. This session is both an informal showcase and a networking event with peer designers, including an emerging network of 20+ libraries, museum educators and more. Play one of several demos tied to specific places, check out the new Hive Mechanic game engine (deliberately low-tech), and get introduced to others who think place matters. Featuring projects from Monash to Boston, "Text with a Sculpture," Streets of My Town, and Revolutionary Spaces. You will participate and meet new people – our goal is to spark dozens of small discussions about the role of play in outdoor spaces, and how to tap into game design for community life.