Open call for fall 2023: Aspiring neighborhood STORYTELLERS and outdoor GAME MAKERS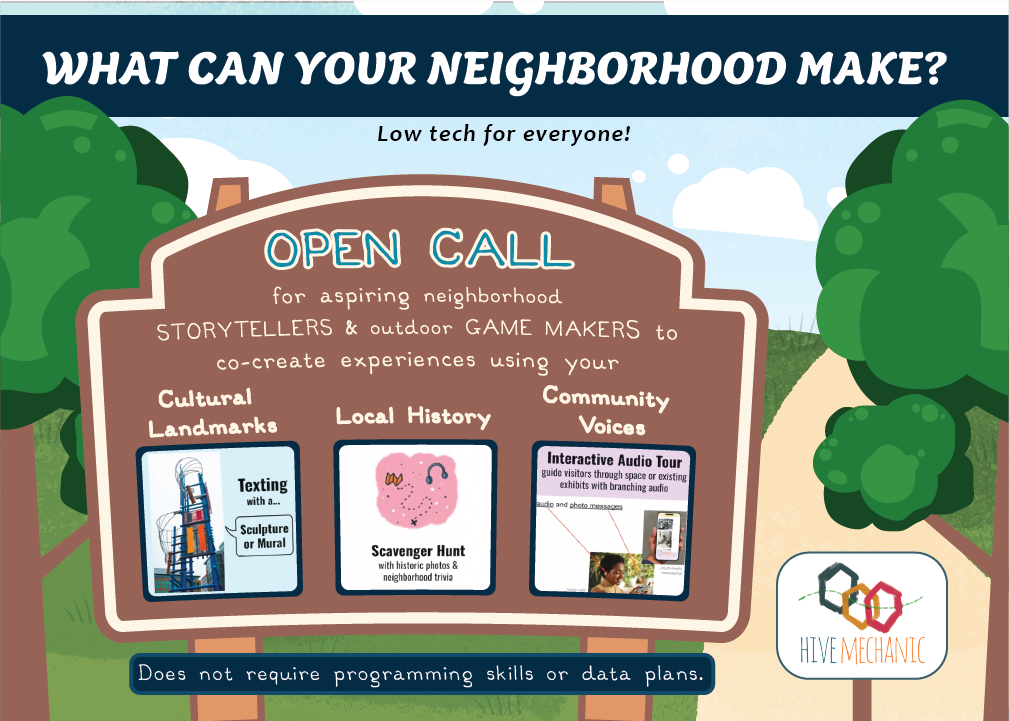 This month we have an open call for aspiring neighborhood STORYTELLERS and outdoor GAME MAKERS in 20+ cities and towns. Each will co-create experiences tied to local history, public libraries, monuments, and public art. Applications are due Sept. 29, 2023, and selected projects can unlock $300 in project funding. Libraries and/or their partners and community groups can apply.
Successful ideas in recent years include scavenger hunts for murals by mobile phone, "text with a sculpture" that brings a monument or cultural asset to life, and audio tours featuring community voices. See examples on our website.
This is "low tech for everyone!" The authoring tool we will use is called Hive Mechanic, and it does not require any programming experience to use; it was made by the Game Center at American University in collaboration with the DC Public Library.
Urban, tribal, and rural projects are all welcome. We especially recruit proposals for ideas to collaborate with a library – such as a neighborhood group that wants to build a mural hunt that starts at the library, or libraries that hope to co-create something with the community. Selected projects will receive coaching from experienced game designers, and join a national cohort.
Our information session by Zoom on Sept 21st is one way to answer your questions (link is on the main landing page).
More information on our open call is available at: https://www.hivemechanic.org/workshops-for-libraries/recruiting1/