National call for aspiring storytellers and outdoor game makers: Engage beyond our walls
We are currently recruiting 20+ public libraries and/or their community partners to co-create neighborhood experiences tied to local history, community voices, and cultural landmarks. Selected applicants can unlock $300 in project funding, access to easy tools, and training from national leaders. Applications are due Sept. 29, 2023 (extension: now Monday, Oct.2 – see below).
What can your neighborhood make?

Examples of successful projects in recent years include:
Our training and tools
This is "low tech for everyone!" The authoring tool we will use is called Hive Mechanic, and it does not require any programming experience to use; it was made by the Game Center at American University in collaboration with the DC Public Library. It was funded in part by by IMLS.
Our training and creation process, for those accepted into the program, will take about an hour a week for six weeks. Most of our training is asynchronous in short videos, plus optional office hours by Zoom for support and free advising. There are three phases:
Part 1 – "Try It Out." In the first two weeks (starting in early October) you will try out our tools and some demos. We will also help you develop an idea into a feasible project.
Part 2 – "Make It." You will turn your idea into a working demo. Each week you will spend an hour refining a different aspect of your design, including the narrative, interactive elements, and print materials. We will also show you how to playtest your creation with partners. This will take approximately four weeks and be done by Thanksgiving. (You can also finish more quickly if you have more than an hour a week available, since the content is largely asynchronous.)
Part 3 – "Host it." We provide free hosting for all projects for one year (that's usually enough time for a special activation). Selected projects can also tap into $300 in materials support for printing posters, graphic design, postcard maps with QR codes, etc. We can also award a limited number of $150 honorariums to individuals who go through our training and intend to train others in their community.
Collaborate: libraries + community partners/leaders
Our focus this fall is to recruit collaborations — including libraries and/or partners and individuals that want to collaborate with libraries. For example, we welcome applications from a neighborhood group that wants to make something for the community that begins on the lawn of the library, or from a library that hopes to co-create a neighborhood hunt with the community.
By joining this program, libraries and/or their collaborators will make neighborhood games and outdoor stories. Urban, tribal and rural projects are all welcome. A formal partnership is not necessary at the time of application, and individuals can receive the training, but the $300 in materials is most likely to be awarded to ideas that emerge as collaborations.
Apply, Info Sessions, Stay in Touch
Apply here by Sept. 29, 2023 (extension: now Monday, Oct.2 – It should only take 15-20 minutes to apply.
Recording of our information session (recorded Sept. 21). View our slides, or watch the 20-minute video on Zoom, Password: Pzn+Hn80
Sign up to stay in touch by email and be notified about information sessions and developments in the program
Answers to common questions are posted to our page for Frequently Asked Questions (FAQ) for libraries.
Contact us by email. Write to Benjamin Stokes, director of the Playful City Lab at American University, at PlayfulCityLab@gmail.com
Postcard for recruiting libraries
We are distributing this postcard — let us know if you'd like copies!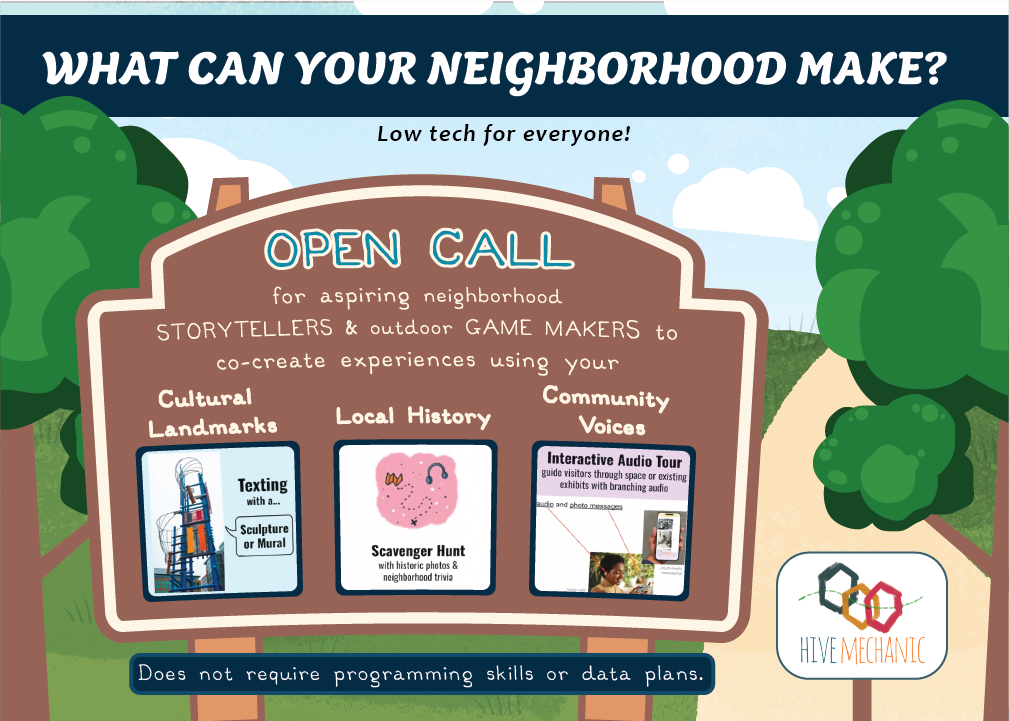 You can print our postcard PDF if you would like.
Our goal: To bring missing voices into public space
We take a different approach to technology: rather than escape or seek national "online" audiences, we value technology that is used in public space and that connects us more deeply with existing places and communities. The need has never been greater to tell our own stories — especially with accessible technology. This project offers a new pathway to highlight resident voices and engage new audiences outdoors. Neighborhoods facing gentrification and racial tensions (on top of COVID-19) may especially feel this need. We are proud of our libraries, in part because they are frequently the only civic institution with a physical neighborhood presence, a deep emphasis on access, and a commitment to preserving community history and resources. For more, see our program homepage.