Workshops at Libraries (IMLS Project)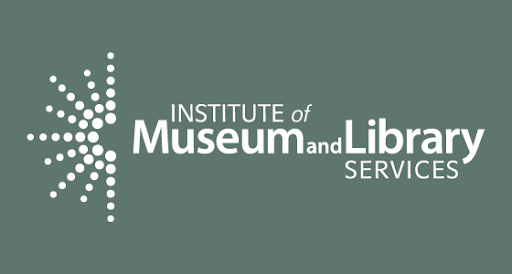 Thanks to a grant from IMLS, this project will establish a new role for public libraries as hubs for making neighborhood games and interactive stories. Our goal is to increase the voice of residents in telling interactive stories, especially tied to local history and the public good.
We address three needs for public libraries:
basic training in game design for communities,
templates of successful games result in community participation, including with ties to local history and public space,
free authoring tools that are easy enough for non-technical users to create games.
Urgent need to bring neighborhood stories into public space
In many communities, the need has never been greater to tell their own stories — increasingly with technology. Especially for neighborhoods facing gentrification and racial tension on top of COVID-19, this project offers a way to tap into the power of games and interactive storytelling for public space. Libraries are frequently the best, and often the only, neighborhood institution to provide access to local history, promote digital inclusion, carve out space for marginalized voices.
What does it look like?
Our demonstrations extend what what libraries are already doing — including outdoor "story walks" that surged in popularity at libraries, public history projects to bring oral histories to a wider audience, and photo archives that can send images directly to the cell phones of residents.

We provide three working demonstrations and focused templates to illustrate the range of what we support for libraries. One model we created with the support of the Smithsonian, another features a 50-foot sculpture in collaboration with a Virginia artist, and a third is for libraries with makerspaces to create their own kiosks.
New tools to engage "beyond our walls"

How can libraries tell stories outdoors and away from screens, including at murals and in public space? New tools are needed.
To empower residents and librarians, we have created a powerful tool called Hive Mechanic to create neighborhood games and interactive stories. Hive Mechanic requires no technical skills (it uses drop-downs rather than any code) and comes with templates to make it easy to try/modify/create. The editor is online, so you just need a web browser. The results are often played by text message, as audio phone calls, multimedia messaging, and at optional kiosks. If you're curious, see screenshots of the editor in action.
What can patrons make? Through what public programs?
The workshops are designed to take 1-2 hours, and empower a group of residents to play, modify, and ultimately publish their own game for public use. We anticipate some teams will be inspired to add their own rich content afterward from home or using library computers (e.g., photographs of neighborhood landmarks, original artwork, audio clips from prominent elders). For each library we anticipate at least one team will launch a public game seeking a large public audience.
Here are three ideas for workshops that lead to public programs, and involve patrons in the design process: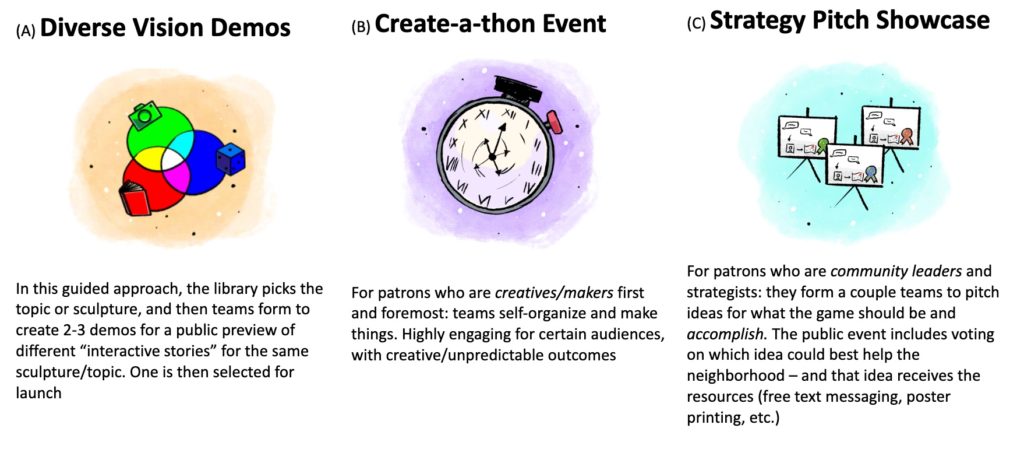 Our curricular approach for workshops is "use/modify/create" — so everyone will try a working example within the first 15 minutes. Small teams will then prototype their story on paper index cards before making the interactive version with Hive Mechanic.
Low-tech or high-tech? In our experience, the two can be like oil-and-water, so it helps to pick the right type for you. Most libraries will choose the "low/no tech" approach. We will support either one by Zoom, advance training, and post-workshop support. Note that if you want to create a kiosk or "storytelling box" then you will need to find a staffer or volunteer with intermediate technology skill.
Play as a strategy. Play is not about technology or for kids — it's part of human culture! We will offer five minutes of principles, based on research at the Playful Cities Lab and a recent book. For engagement professionals, this is often a favorite part.
See our workshop details page for more.
How to sign up (libraries must apply)
1. Curious? Get notified about our next informational Zoom, major project announcements and calls for libraries to apply. See also our Frequently Asked Questions (FAQ) for libraries.
Attend a Demo and Info Session on Zoom (50 minutes). You will get to test a demonstration activity (by text message with your own phone), and see the Hive Mechanic editor in action. There will be plenty of time for questions
2. Apply to host a workshop — with our funds, training, and optional technology shipped to your library. We offer $300 in materials costs and $150 as a stipend for one person to attend an hour of training. The call for applications will be linked from here in late spring of 2022. Again, see our FAQ if you have questions. If selected, you will…
Invite residents for a 2-hour workshop to make a working game or activity. We will provide technical support and help you lead the workshop.
OPTIONAL: Host a public event (optional) with one of the games made by your staff or residents.
Timeline: Mid-Atlantic in 2021, national in 2022-23
We plan to reach national scale through three workshop cycles. In the first year, five "exemplar libraries" in the Mid-Atlantic region (including rural and small libraries) will host workshops in their own libraries, and help to create our training videos around librarian needs and actual use. Our 2022, we pivot to national recruiting with online training. Each call for applicants will yield an additional ten cities/towns/tribal regions. We approach "train the trainer" with a very light hand so that any librarian can host a workshop with no technical background, partly through our templates for games and interactive stories. At the heart of each template is a structure for weaving in local archives and community voices. We will also provide each library with materials and prepaid messaging accounts to host their own public events and programming.
Advisory group on scaling
We will announce our full advisory by the summer of 2022.