Our second national cohort: 20+ cities, towns and places started this spring
Last month we launched our second national training program for libraries. More than 40 applied in early 2023. The majority completed the first phase (2 sessions) and was selected to continue in the second phase (4 sessions in April of 2023).
From Seward, Alaska, to Broward County, Florida, our spring cohort of libraries are creating outdoor games and interactive stories with their local communities.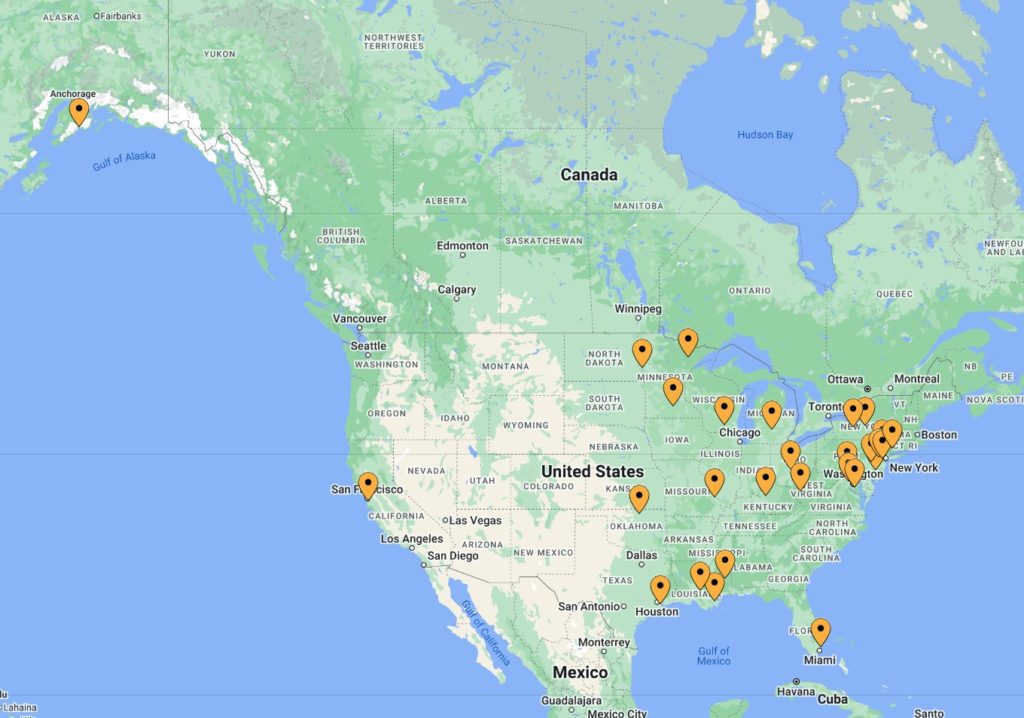 The program is part of a series called "Engaging Beyond Our Walls," supported by the IMLS. Adding together fall and spring cohorts, a total of 46 unique cities and counties will have been a part of the series.
What are they making? One plans to offer "texting with a statue" that happens to be a large-scale dinosaur; others include: an interactive scavenger hunt that ties into an existing walking tour; a mural walking tour; a texting adventure with three birds; a time machine scavenger hunt; a choose your own adventure story created with teens; and a placemaking heritage walk.
Logos from participating libraries include:
Several libraries will host DIY workshops to empower residents to "make their own" games and interactive stories using the Hive Mechanic tool that we created; the tool centers on text messaging, voice trees, and connecting to city data streams.
Another group of libraries will make physical "storytelling boxes," often using library makerspaces. Each box will tell a different story, bringing together physical making and STEM skills with history and community-based storytelling.
Check back this summer for photographs of early playtests, and emerging models for what libraries can build. Meanwhile, our research continues into how libraries can become "nodes" for community storytelling, and how we can democratize the design process so that ordinary people and community groups can directly make their own interactive stories and outdoor games.
We hope to offer a more asynchronous version of our training in the fall of 2024. Sign up to be informed when the application opens.
Locations for our spring cohort:
AK
Seward Community Library & Museum – Workshop Group
CA
South San Francisco Public Library
FL
Broward County Library
KY
Spencer County Public Library
LA
New Orleans Public Library – Workshop Group
West Feliciana Parish Library
MD
Prince George's County Memorial Library System
MI
Grand Ledge Area District Library
MN
Arrowhead Library System
St. Peter Public Library
MS
The Laurel-Jones County Library System
Ste. Genevieve County Library – Workshop Group
ND
West Fargo Public Library
NJ
Haddonfield Public Library
New Providence Memorial Library
Taylor Memorial Library
NY
Clifton Springs Library
Manlius Library
Ramapo Catskill Library System
OH
Columbus State Community College Library
Heights Libraries – Storytelling Box Group
OK
Ponca City Library – Workshop Group
PA
Coyle Free Library
Emmaus Public Library
TX
Pasadena Public Library
WI
Milton Public Library
Wisconsin University Library
VA
Loudoun County Public Library